Hello all,
i have just sucessfully finished my Project, where i have build a BLE RC Transmitter to Control LEGO Topgear Rally car a shown here:
https://fritzing.org/projects/ble-remote-control-for-lego-topgear-rally-car
Note that my controls work withoutb the Need for additional "bridges" like Brickcontroller app ……
The next procect planning is as follows: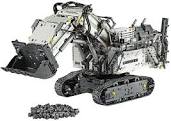 I wan't to build a a more complex BLE remote Control for the :
LEGO TECHNIC Liebherr R 9800 Excavator 42100 (prefered)
What is this About:
The remote Control will use a freely programmable gamepad:
https://www.dfrobot.com/product-858.html
More important, it will use a SuperBee ESP32 as Bluetooth communication processor located within the XBEE Socket.
I have all components i Need except the LEGO Excavator
I am Looking for a Sponsor or supporter who will provide me with this kit.
We can also make (signed) Gentleman Agreement, where i declare to give back kit after develoipment time, latest after 12 weeks.
I don't have much space at home to permanently keep it, here.
@Macchina:If you like we can publish some Kind of Project story within a Magazine or webbage (yours?)
Contact me if intersted to contribute
Greatings from Germany
Marc (Ruppie)